Sophie Molia

Veterinary epidemiologist specialized in animal health in tropical regions
CIRAD, UMR ASTRE
Adresse: campus international de Baillarguet, TA A-117/E,
34398 Montpellier Cedex 5, France
Tél: +33 (0)
4 67 59 39 14
Email: sophie.molia@cirad.fr
Biography

I graduated from Toulouse Veterinary School in France in 1998 and carried on with a three-year specialization degree in Animal production and health in tropical countries (DESV-PARC). As part of this degree, I worked for a year and a half in Sri Lanka (for the Department of Animal Production and Health) and in Cambodia (for Pasteur Institute in Cambodia).
I spent the following two years in the United States where I completed the Envirovet training of the University of Illinois at Urbana-Champaign (science and policy of wildlife, public and ecosystem health), volunteered at the Brookfield Zoo and Lincoln Park Zoo in Chicago and obtained a Master of preventive veterinary medicine (MPVM) from the University of California at Davis.

CIRAD (French international agricultural research centre for development) subsequently hired me as a veterinary epidemiologist. My first posting was at the Duclos research station in Guadeloupe, West Indies (2004-2006) and then at the Regional Animal Health Center in Bamako, Mali (2008-2011). In these roles I had the opportunity to design and coordinate research projects and control programs for different transboundary animal diseases in a wide array of Caribbean and African countries.
Between 2012 and 2014, I was based at the headquarters of CIRAD in Montpellier to work on two European research projects, conduct expertise work for various institutions (ANSES, FAO), and cowrite a multidisciplinary book on family farming while pursuing a PhD in epidemiology at the Royal Veterinary College of the University of London.
In 2015 and 2016, I was posted at the Pasteur Institute of Madagascar where I worked on research projects applying the "One Health" and "Ecohealth" concepts. Since 2017, I am back on the Montpellier campus of CIRAD to develop scientific activities for the newly created ASTRE research unit.
Research

My passion in terms of research is for diseases at the interface between humans, domestic animals and wildlife in developing countries, with a special interest in emerging diseases and diseases that have an impact on the health and livelihood of local communities.
The projects I have managed have investigated the role of water buffalo in the epidemiology of foot and mouth disease in Sri Lanka, Lyssavirus infections in Cambodian bat populations, Bartonella infections in free-ranging wild felids of Africa and North America, and West Nile fever and tick-borne diseases in the Caribbean. From 2007 to 2011, I mainly worked on avian influenza and Newcastle disease in Africa, coordinating an FAO project (EPIAAF) aimed at identifying risk factors for the introduction, maintenance and spread of HPAI H5N1 in Burkina Faso, Cameroon, Egypt, Ivory Coast, Niger, Nigeria, and Sudan, and the Malian component of a project funded by the French Ministry of Foreign Affairs (GRIPAVI) on the eco-epidemiology of avian influenza and Newcastle disease in Southern countries (Mauritania, Mali, Ethiopia, Madagascar, Zimbabwe and Vietnam). From 2012 to 2014, my research activities focused on two European projects: one on African swine fever (ASFORCE project) and one on developing decision support tools for the design of cost-effective risk-based surveillance systems (RISKSUR project). In 2015 and 2016, I worked on cysticercosis, rabies, rodent-borne diseases and African swine fever in Madagascar.
My work consists of detecting and quantifying the occurrence of animal diseases, understanding transmission mechanisms of pathogenic agents at the population level, identifying risk factors for the introduction, persistence and dissemination of epizootics, and optimizing surveillance and control measures for animal diseases.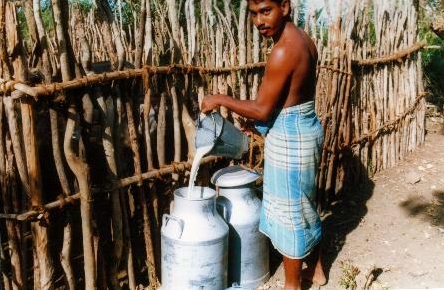 The results of my research aim to improve the health of human and animal populations in countries of the South, by integrating multi-scale (from technical recommendations at the local level to the regional management of disease surveillance programs) and multi-disciplinary approaches.
Teaching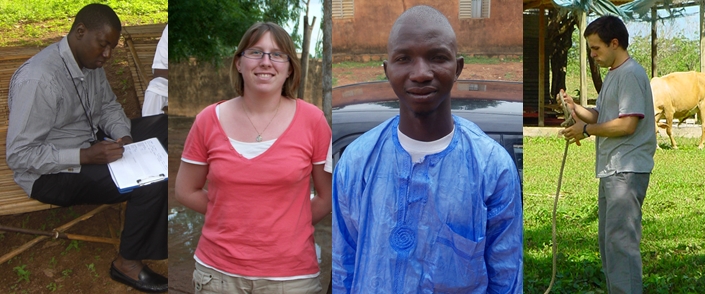 I have been teaching classes on epidemiology, epidemiosurveillance and zoonoses at the veterinary faculty in Antananarivo, Madagascar, and for various MSc courses such as SAEPS (Animal health and epidemiosurveillance in the South) or SEMHA MSc (Epidemiosurveillance of human and animal diseases) organized by CIRAD in collaboration with Montpellier 2, Paris XI, and Paris XII Universities and the National Veterinary Schools of Maisons-Alfort and Toulouse. I also supervise students from those MSc and other postgraduate programs.
Moreover, I am regularly involved in epidemiology training courses organised by international organizations for animal health (FAO, OIE, AU-IBAR) for staff of the veterinary services in Africa and Asia, such as FETPV training programs.
Selected Publications
(a link to the pdf is provided for open access publications)
Molia S, Kasten RW, Stuckey MJ, Boulouis HJ, Allen J, Borgo GM, Koehler JE, Chang C, Chomel BB. Isolation of Bartonella henselae, Bartonella koehlerae subsp. koehlerae, Bartonella koehlerae subsp. bothieri and a new subspecies of B. koehlerae from free-ranging lions (Panthera leo) from South Africa, cheetahs (Acinonyx jubata) from Namibia and captive cheetahs from California. Epidemiol Infect 2016 144 3237-3243
Molia S, Boly I, Duboz R, Coulibaly B, Keita S, Sylla M, Ghani A, Guitian J, Grosbois V, Fournié G, Pfeiffer DU. Live bird markets characterization and trading network analysis in Mali: implications for the surveillance and control of avian influenza and Newcastle disease. Acta Trop 2016 155 77-88
Vergne T, Guinat C, Petkova P, Gogin A, Kolbasov D, Blome S, Molia S, Pinto Ferreira J, Wieland B, Nathues H, Pfeiffer DU. Attitudes and Beliefs of Pig Farmers and Wild Boar Hunters Towards Reporting of African Swine Fever in Bulgaria, Germany and the Western Part of the Russian Federation. Transbound Emerg Dis 2016 63(2) 194-204.
Molia S, Bonnet P, Ratnadass A. Health challenges : increasing global impact. In Sourisseau JM, « Family farming and the worlds to come », Editions Springer 2015, 199-216
Goutard FL, Binot A, Duboz R, Rasamoelina-Andriamanivo H, Pedrono M, Holl D, Peyre MP, Cappelle J, Chevalier V, Figuié M, Molia S, Roger F. How to Reach the Poor? Surveillance in low-income countries, lessons from experiences in Cambodia and Madagascar. Prev Vet Med 2015 120(1) 12-26
Relun A, Charrier F, Trabucco B, Maestrini O, Molia S, Chavernac D, Grosbois V, Casabianca F, Etter E, Jori F. Multivariate analysis of traditional pig management practices and their potential impact on the spread of infectious diseases in Corsica. Prev Vet Med 2015 121 (3-4) 246-256.
Molia S, Traoré I, Kamissoko B, Diakité A, Sidibé MS, Sissoko KD, Pfeiffer DU. Characteristics of commercial and traditional village poultry farming in Mali with a focus on practices increasing the risk of transmission of avian influenza and Newcastle disease. Acta Trop 2015 150 14-22
Guerrini L, Paul MC, Leger L, Andriamanivo HR, Maminiaina OF, Jourdan M, Molia S, Rakotondravao R, Chevalier V. Landscape attributes driving avian influenza virus circulation in the Lake Alaotra region of Madagascar. Geospatial Health 2014 8(2), 445-453
Molia S, Bonnet P, Ratnadass A. 2014. Support for the prevention of health risks. In « Family farming and the worlds to come », coordinated by Sourisseau JM, Springer editions, 2014, 267-283
de Almeida RS, Hammoumi S, Gil P, Briand FX, Molia S, Gaidet N, Cappelle J, Chevalier V, Balança G, Traoré A, Grillet C, Maminiaina OF, Guendouz S, Dakouo M, Samaké K, Bezeid Oel M, Diarra A, Chaka H, Goutard F, Thompson P, Martinez D, Jestin V, Albina E. New avian paramyxoviruses type I strains identified in Africa provide new outcomes for phylogeny reconstruction and genotype classification. PLoS ONE 2013 8(10): e76413
Molia S, Kamissoko B, Sidibé MS, Diakite A, Diall M, N'Diaye MR. Deficient reporting in avian influenza surveillance, Mali. Emerg Infect Dis 2012 (18):691-693
Molia S, Samaké K, Diarra A, Sidibé MS, Doumbia L, Camara S, Kanté S, Kamissoko B, Diakité A, Gil P, Hammoumi S, Servan de Almeida R, Albina E, Grosbois V. Avian influenza and Newcastle disease in three risk areas for H5N1 highly pathogenic avian influenza in Mali. Avian Dis 2011 (55)4 650-658
Cattoli G, Fusaro A, Monne I, Molia S, LeMenach A, Maregeya B, Nchare A, Bangana I, Garba Maina A, N'Goran Koffi JN, Thiam H, Bezeid OEM, Salviato A, Nisi R, Terregino C, Capua I. Emergence of a new genetic lineage of Newcastle disease virus in West and Central Africa - Implications for diagnosis and control. Vet Microbiol 2010 (142) 168-176
Molia S, Lapeyre S, Sidibé MS, Sissoko KD, N'Diaye MR, Diall M, Doumbia L. Semi-quantitative evaluation of the epidemiosurveillance network for highly pathogenic avian influenza in Mali. Epidémiol et santé anim 2010 (57) 91-103
Links
Link to the website of the research unit ASTRE
© Cette page est publiée sous la responsabilité exclusive de
Sophie Molia
.
La responsabilité du Cirad ne peut en aucun cas être engagée.
Page affichée 174268 fois. Dernière visite le 2019-05-24 07:29:38
Dernière modification de cette page le 2017-07-11 22:30:20