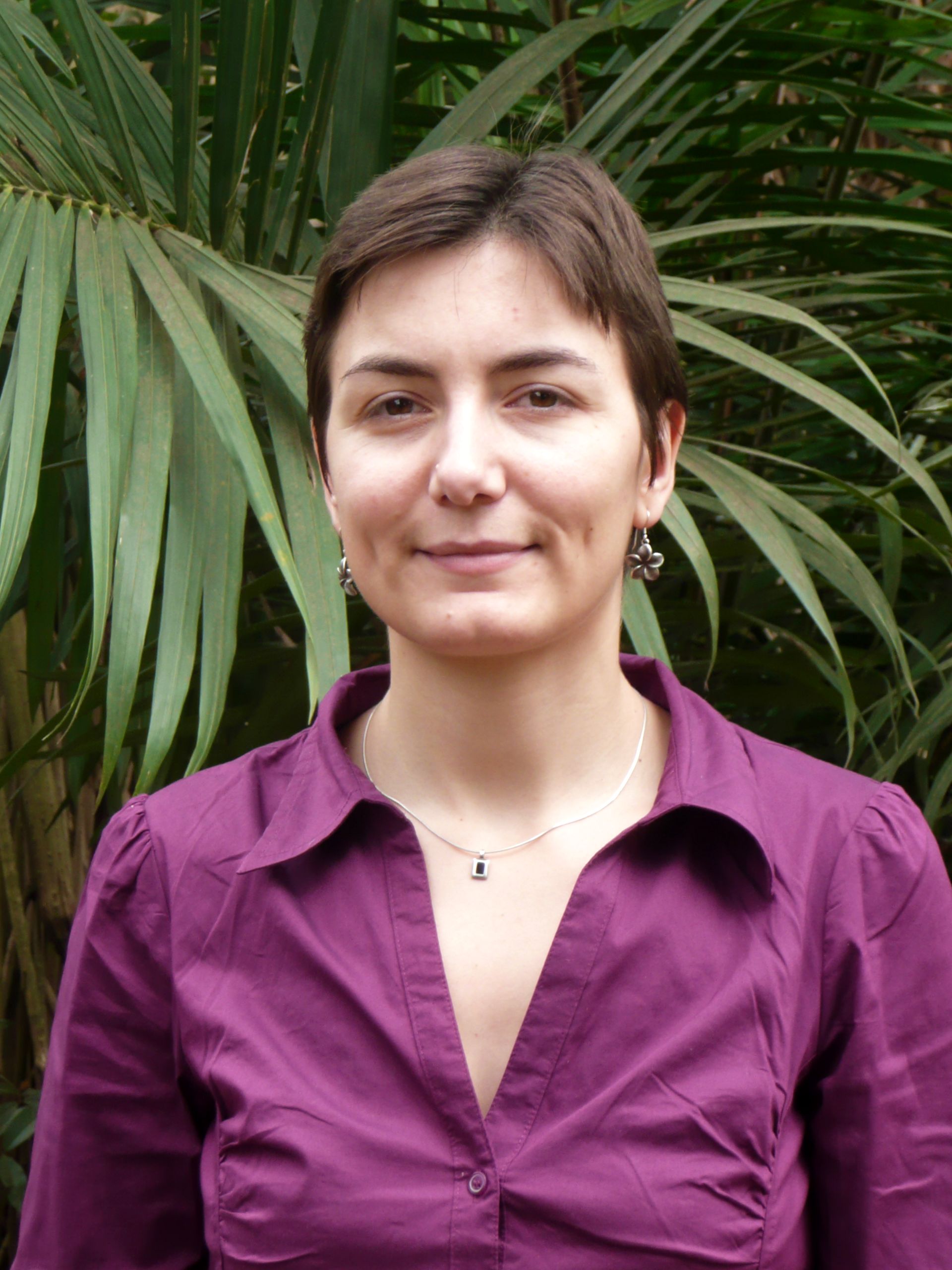 Laurène joined the Forests and societies research team in 2011, to work on interactions between forests, agriculture and livestocks.
Her present research activities focus on the Central American region in partnership with CATIE (Tropical Agricultural Research and Higher Education Center) and ICRAF (World Agroforestry Center). Her work focuses on family farming in forested landscapes and ecological intensification of agricultural practices (agroforestry, conservation agriculture).
Contact
CIRAD, Department Environment and Societies
Research Unit Forests and Societies (UR Forests and Societies)
TA C-105/D
Campus International de Baillarguet
34398 Montpellier Cedex 5, France
Office in CATIE
Programa IDEA, edificio principal
3 km sobre carretera a Siquirres
7170 Cartago,Turrialba 30501, Costa Rica.
email : laurene.feintrenie@cirad.fr
Field of Research
Relations between agriculture development and natural resources management in landscapes dominated by forests and tree-based systems.
Multiscale approach from plot and household to landscape level.
Research Projects
ForeCast (coordinator of the project): FORests and ECological intensification of Agricultural SysTems
Project description The study sites
STRADIV: System approach for the TRAnsition to bio-DIVersified agroecosystems
CGIAR Research Program on Forests, Trees and Agroforestry (CRP FTA):
Nicaragua-Honduras Sentinel Landscape
Trees on Farms
CoForTips (co-coordinator of the project): Congo Basin Forests: Tipping points for biodiversity conservation and resilience of forested social and ecological systems
CoForSet : Scenarios of Biodiversity and Biodiversity Offsetting Mechanisms in the Forests of the Congo Basin
CoForTips and CoForSet projects Newsletters: 0; 1; 2; 3; 4; 5
Specific country experience
Central America - Costa Rica - 01/12/2015 - present : Assigned in Costa Rica to work on family farming in forested landscapes in the Central American region, and develop recommendations (technical, social and political) to enhance ecological intensification of agricultural practices and limit their impacts on ecosystem services. This work is conducted at the sub-region scale with comparisons with other tropical regions (Central Africa, Amazonian Basin, South-East Asia).
Central Africa - Cameroon - 01/12/2012 - 30/11/2015: Assigned in Cameroon to develop research activities focus on the drivers of deforestation and forest degradation in the Congo Basin outside the forest sector, specifically the expansion of family agriculture, and large-scale investments in forested lands for agro-industrial plantations and mining activities. Work at the Central African region scale with a focus on four countries: Cameroon, Gabon, Democratic Republic of Congo, Republic of Congo. In collaboration with WWF Central Africa regional program office (WWF-CARPO).
Indonesia - 01/05/2007 - 30/10/2011: PhD in IRD, based at CIFOR headquarters in Indonesia. Her PhD research looked at agroforests conversion to monospecific plantations in Indonesia, with a focus on oil palm development. She was notably much involved in the research project 'Integrating livelihoods and multiple biodiversity values in landscape mosaics', a multi-disciplinary project coordinated by CIFOR and ICRAF and funded by the Swiss Agency for Development.
Vanuatu - 01/05/2005 - 01/11/2005: Contribution to the assessment of agroforestry cropping systems based on coconuts in Vanuatu. 6 months internship within CIRAD. Work at plot and farm levels.
Cambodia - 01/05/2004 - 01/09/2004: Regional assessment of agriculture in Mimot district (Kampong Cham), Kingdom of Cambodia. 5 months internship within CIRAD. Landscape analysis, historical survey, social and economic study with modelling.
Professional background

Since December 2011: CIRAD scientist, within the Research Department Environment and Societies,
Research Unit Forests and Societies (ex-research unit 'Tropical Forest Goods and Ecosystem Services', B&SEF).
Former projects
SPOP (coordinator of activities): Sustainable development of Palm Oil Production, designing strategies from improved knowledge on oil palm cropping systems (Indonesia and Cameroon)
CGIAR Research Program on Forests, Trees and Agroforestry (CRP FTA):
Flagship 5: Impacts of trade and investment on forests and people
AFS4Food: Agroforestry systems for food security
Makala : Charcoal supply to Kinshasa and Kisangani (DRC)
Biomass project (coordinator of a country-study): Potential for biomass-energy production in 6 countries (Ukrainia, Mozambique, Guatemala, Republic of Congo, Thaïland, Argentina)
Prospective analysis on forest ecosystems in the Congo Basin outlook for 2040
Before CIRAD
2009 - 2011 : CIFOR, Consultant at the Center for International Forestry Research.
2007 - 2010 : IRD, PhD candidate at the Institute of Research for Development
PhD on landscape dynamics in Jambi province, Indonesia, looking at the drivers of rubber agroforests conversion to monospecific plantations of rubber and oil palm. Based at CIFOR, in collaboration with ICRAF (World Agroforestry Center), within the project 'Landscape Mosaics'.
Education
PhD in Human Geography, with distinction (2010). Faculty of geography, University of Montpellier III, supervised by Patrice Levang (IRD, UMR GRED).
Master of Agronomy with specialization in tropical areas (2005), Institute of Hot Areas (IRC-SupAgro), in Montpellier.
Master of Agricultural and Environmental Sciences (2004), Bordeaux Science Agro.
© Cette page est publiée sous la responsabilité exclusive de
Laurene Feintrenie
.
La responsabilité du Cirad ne peut en aucun cas être engagée.
Page affichée 88858 fois. Dernière visite le 2021-01-24 22:24:32
Dernière modification de cette page le 2017-04-06 18:51:45